Our
products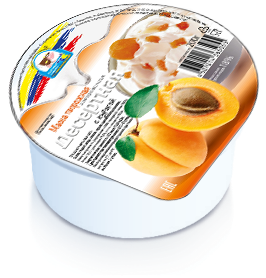 Sweet curd dessert with dried apricot (frozen)
TS 9222-074-00437062-2015
Ingredients: curd, sugar, cream, dried apricot, vanillin.
Nutritional value (per 100 g): fat 18 г, protein 12,1 g, carbohydrates 23 g of which sugar 18,4 g.
Energy value – 302 kcal /1264 kJ.
Shelf life – 45 days at a temperature of - 18 °С.
Shelf life after defrostation – 5 days at a temperature of 4±2 °С.
Weight – 200 g.
Number of items in packaging unit – 30.

This sweet curd dessert contains highly-valued milk protein and digestible milk fat. It could be chosen as a dish for breakfast or as a snack especially in a period of mental and physical stress. Additionally dried apricot contains a lot of B-Carotene, vitamin C, K, Fe and Mg. These elements are necessary for hematopoietic and cardiovascular systems and generally for proper metabolic process.
Also this sweet curd could be used as a pie filler.