Our
products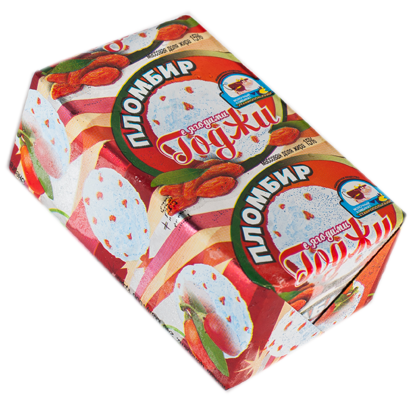 Vanilla ice-cream with goji berry in waffle cover
GOST 31457-2012
Ingredients: skim milk, butter, sugar, dried goji berry, waffle, stabilizers (wheaten flour, mono – diglycerides, guar gum, carageenan, sodium alginate), vanillin.
Nutritional value (per 100 g): fat 13,3 g, protein 4,9 g, carbohydrates 24,2, g of which sugar 13,7 g.
Energy value – 240 kcal/1000 kJ.
Shelf life – 6 months at a temperature of - 18 °С.
Weight – 90 g.
Number of items in packaging unit – 35.


This ice-cream is a unique product of "Dairy company Stavropolskiy". It is both delicious and full of benefits for health which goji berries bring.
Goji berries, scientifically known as Lycium barbarum, are also known as wolfberries, fructus lycii and gougizi. These dried red berries have been used in traditional Chinese medicine for more than 2,000 years.
Goji berries are very nutritious. They are high in fiber, protein, unsaturated fatty acids and a range of vitamins and minerals including iron, copper, selenium and vitamins A and C. Goji berries provide 11 essential amino acids — more than other common berries.
In addition, they are packed full of phytosterols and powerful antioxidants, including carotenoids, lycopene, lutein, flavonoids and polysaccharides. In fact, polysaccharides make up 5–8% of dried goji berries.
What's unique about goji berries is that they contain specific antioxidants called Lycium barbarum polysaccharides, which are thought to provide a variety of impressive health benefits.
Goji berries contain germanium which appears to be effective at protecting the body against cancer, harmful bacteria, fungi and viruses, immune bolstering, oxygenating.
The Chinese call Goji berries the berries of happiness because they have good impact on brain health and fight against depressions.
Goji berries're associated with many other health benefits, including improving blood sugar control, helping with weight loss and fighting aging.
There are some resent research results below.
Goji berries have a high oxygen radical absorbance capacity (ORAC) score of 3,290. This rating indicates the quantity of antioxidants in certain foods. Antioxidants like those in goji berries may help fight aging by preventing free radicals from damaging collagen in the skin.
Goji berry extract may inhibit or slow down cancer cell growth. Test-tube studies indicate the extract may even destroy cancer cells.
Test-tube and animal studies show that goji berry extract improves blood sugar control by increasing insulin sensitivity and insulin secretion by the pancreas.
Regular consumption of goji berry extract may improve energy levels, exercise performance and overall feelings of well-being.
Goji berries are low-GI and high in fiber, which can help with weight loss. Concentrated goji berry juice may promote weight loss through increased calorie burning.
Animal studies have shown that goji berry extract may help lower total cholesterol and triglyceride levels, and increase "good" HDL cholesterol.
Goji berry extract may help boost the immune system by increasing the white blood cells responsible for protecting the body against harmful bacteria and viruses.
Enjoy our excellent ice-cream and get benefits of goji berries!