Our
products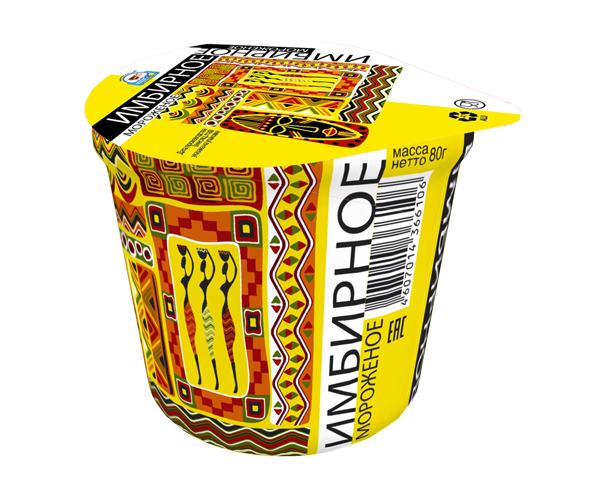 Gingery ice-cream in plastic cup
TS 10.52.10-087-00437062-2017
Ingredients: skim milk, butter, sugar, ginger, stabilizers (wheaten flour, mono – diglycerides, guar gum, carboxylmethylcellulose, carageenan), vanillin.
Nutritional value (per 100 g): fat 5 g, protein 3,5 g, carbohydrates 22, g of which sugar 14,5 g.
Energy value– 147 kcal/615 kJ.
Shelf life – 6 months at a temperature of - 18 °С.
Weight – 80 g.
Number of items in packaging unit – 30.


This delicious ice-cream gives energy and enhances mood, refreshes and warms at the same time.
The unique aroma and flavor of this ice-cream come from GINGER which has a lot of health benefits for body and brain.
This ice-cream is a perfect dessert to finish rich repast and a good choice for winter time thanks to antiseptic properties of ginger.
Ginger is among the healthiest (and most delicious) spices on the planet. It is loaded with nutrients and bioactive compounds that have powerful benefits for the human health that are supported by scientific research.
Ginger is a flowering plant that originated from China. The rhizome (underground part of the stem) is the part commonly used as a spice. It is often called ginger root, or simply ginger.
Ginger has a very long history of use in various forms of traditional/alternative medicine. It has been used to help digestion, reduce nausea and help fight the flu and common cold. It is a very popular ingredient in recipes.
Ginger contains vitamins C, B1, B2, A, minerals, amino acids etc.
The unique fragrance and flavor of ginger come from its natural oils. Gingerol is the main bioactive compound in ginger, responsible for much of its medicinal properties. It has powerful anti-inflammatory and antioxidant effects. Gingerol can help lower the risk of infections. In fact, ginger extract can inhibit the growth of many different types of bacteria. It is very effective against the oral bacteria linked to inflammatory diseases in the gums, such as gingivitis and periodontitis.
Ginger has good impact on digestion. This spice appears to speed up emptying of the stomach, which can be beneficial for people with indigestion and related stomach discomfort.
Also, ginger can help prevent various types of nausea. This applies to sea sickness, chemotherapy-related nausea, nausea after surgery and morning sickness.
Ginger contains a substance called 6-gingerol, which may have protective effects against cancer.
Ginger has good impact on cardiovascular system. There is some evidence, in both animals and humans, that ginger can lead to significant reductions in LDL cholesterol and blood triglyceride levels.
At the same time, ginger has been shown to lower blood sugar levels and improve various heart disease risk factors in patients with type 2 diabetes.
Ginger has some benefits for locomotor system. It appears to be effective at reducing the day-to-day progression of muscle pain, and may reduce exercise-induced muscle soreness. Also, there are some studies showing ginger to be effective at reducing symptoms of osteoarthritis.
Studies suggest that ginger can protect against age-related damage to the brain. It can also improve brain function in elderly women.
Also, ginger is a good tonic and can help to deal with depression.
Ginger appears to be very effective against menstrual pain when taken at the beginning of the menstrual period.
Moreover, ginger can be used as aphrodisiac for men and women.
Significantly, fat content of our gingery ice-cream is only 5 % therefore it is suitable for people who keep on a diet.
Enjoy gingery ice-cream all the year and keep healthy!