Our
products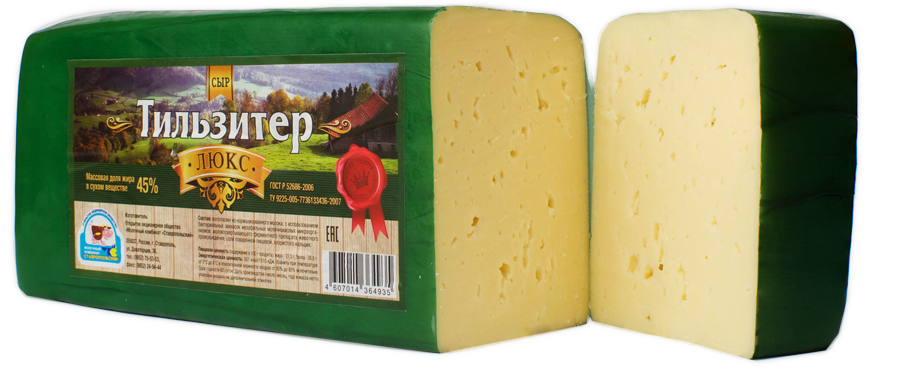 Tilsiter luxe, blocks, snack (30 g)
GOST R 52686-2006
Ingredients: pasteurized cow milk, starter culters of mesophilic lactic-acid bacteria, milk-clotting enzyme of animal origin, salt, calcium chloride.
Nutritional value (per 100 g): fat 27,3 g, protein 26,8 g.
Energy value – 361 kcal/1510 kJ.
Fat in dry matter — 45 %.
Shelf life – 60 days at a temperature of 0–6 °С and relative humidity 80–85 %.

This cheese from cow milk has slightly sour and clean milk taste and aroma. Sometimes it can have slightly pungent flavor. The texture of Tilsiter luxe cheese is smooth with cracks and small irregular holes. The colour of the cheese is yellow or pale yellow.
We recommend using Tilsiter luxe as a snack or an ingredient of sandwiches and salads.
Also, this cheese melts easily, so you can add it in different types of hot dishes.
Tilsiter story
The cheese was invented in Tilsit (East Prussia) in the 1700s by Dutch immigrants actually trying to make Gouda.
The recipe spread in many other countries: Austria, Denmark, Germany, Slovenia and Switzerland.
The town of Tilsit is also famous for the Treaty of Tilsit in 1807, signed by Napoleon, Alexander I of Russia and Frederick William III of Prussia. France made peace with Russia (temporarily – until 1812) and gave Russia a free hand in Finland. Tilsit was transferred to Russia from Germany at the end of the Second World War in 1945. Though Tilsit has disappeared off the map, being now a town called "Sovetsk" in the Kaliningrad area of Russia, Tilsit cheese is still made there and called that.