Our
products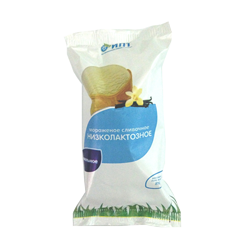 Low-lactose vanilla ice-cream in waffle cup
TS 10.52.10-003-388-64430
Ingredients: skim milk, butter, sugar, powdered skim milk, waffle, stabilizers (wheaten flour, mono – diglycerides, guar gum, carageenan, sodium alginate), vanillin.
Nutritional value (per 100 g): fat 8 g, protein 4,6 g, carbohydrates 24,4, g of which sugar 13 g, lactose maximum 1,5 g.
Energy value– 190 kcal/800 kJ.
Shelf life – 6 months at a temperature of - 18 °С.
Weight – 65 g.
Number of items in packaging unit – 48.

"Dairy company Stavropolskiy" is the first producer of law-lactose ice-cream in Russia.
This ice-cream is a perfect choice for people who love ice-cream and suffer from lactase deficiency.

Now everybody is able to enjoy delicate and fresh vanilla ice-cream!