Our
products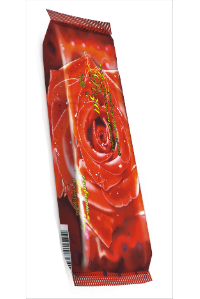 Stick white chocolate with waffle chips glazed frozen dessert bars "Rose" with rose petals jam "Rose"
Company's code 00437062-004-2011
Ingredients: skim milk, sugar, vegetable fat, white glaze, waffle, rose petals jam, stabilizers (wheaten flour, Cremodan®), vanillin.
Nutritional value (per 100 g): fat 18,9 g of which vegetable fat 18,9 g, protein 4,5 g, carbohydrates 25,5 g of which sugar 19,4 g.
Energy value– 284 kcal.
Shelf life – 6 months at a temperature of - 18 °С.
Weight – 65 g.
Number of items in packaging unit – 48.