Our
products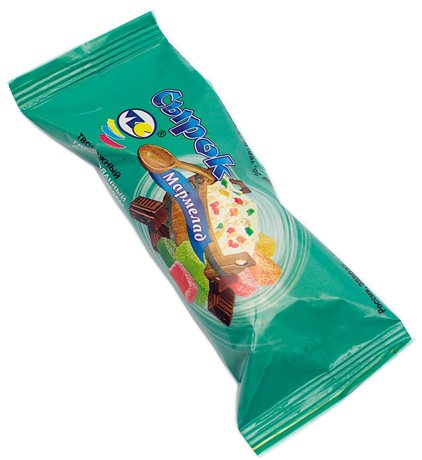 Chocolate glazed curd snack with fruit jelly (frozen), fat content 18 %
GOST R 52790-2007
Ingredients: curd, sugar, glaze «Stavropolskaya» (vegetable fat, sugar, cacao powder, lecithin, vanillin), filler fruit jelly (sugar, water, stabilizer pectin, acidity regulators сіtric acid, flavouring agents «Raspberry», «Orange», «Lemon», «Green apple», colourants (carmine, carotene, chlorophyllin), preservative agents (potassium sorbate, sodium benzoate )), butter, vanillin.
Nutritional value (per 100 g): fat 22,7 g, protein 10,8 g, carbohydrates 31 g of which sugar 30,5 g.
Energy value – 372 kcal /1559 kJ.
Weight – 45 g.
Shelf life – 60 days at a temperature of - 18 °С.
Shelf life after defrostation – 5 days at a temperature of 4±2 °С.